Mank (2020)
Directed by David Fincher
It's been more than a decade since David Fincher has made a film like "Mank," one that doesn't fall into the thriller genre. I usually look forward to the director's work because it always keeps me on the edge of my seat and delivers an unexpected payoff in the end (or, if you read "Gone Girl," an expected but still satisfying payoff). With "Mank," Fincher's black and white biopic of old Hollywood heavy-hitter Herman Mankiewicz, the pace is considerably slower and the conclusion much less rousing.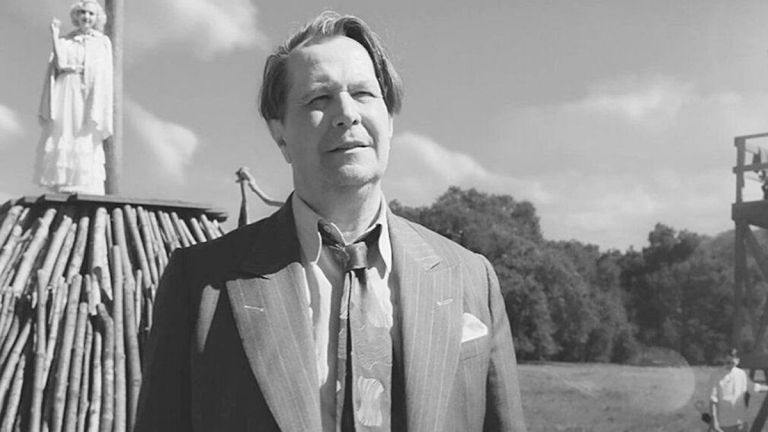 Two years ago, Netflix produced its first Best Picture nominee, "Roma." Last year, two of its movies made the cut. A win in the category has so far eluded its grasp, but I think Netflix has a winner with "Mank." (Not that I necessarily hope it will win, but if I was a betting man I might put my money on it.) Netflix finally learned a well-known fact…the Academy loves films about Hollywood, and especially old Hollywood. And during a year when Netflix did not pull so much business from movie theaters (you can blame a pandemic for that), critics of the streamer will have a harder time making the case that awarding it with the top prize will somehow make it more legitimate (as if it could be any more relevant than it already is).
Even if it doesn't win Best Picture (maybe "Nomadland" makes its way to the stage at the end of the night, as many predict), "Mank" is likely to lead the night in nominations and maybe even wins. For Best Actor, Gary Oldman is bound to be nominated for his portrayal of the washed-up alcoholic screenwriter Mank (who is best, and perhaps only, known for his Oscar-winning "Citizen Kane" script). Best Actor is a somewhat weak field, based on what I've seen so far, but that's not to say Oldman wouldn't deserve it. Despite being 20+ years older than his character, Oldman makes a strong case for his second Oscar win in four years. If Tom Burke doesn't find his name called on nomination morning, it may be partly because his brilliant impression of Orson Welles didn't play a huge role in the narrative (at least, not nearly as prominent as I thought it might). I am surprised at the attention Amanda Seyfried has received for her part. As much as I enjoyed her performance, I do not see it as something worthy of an Oscar.
On the other side of the camera, nominations for directing, writing, cinematography, editing, costumes, and production design are almost guaranteed. And I really can't argue with any of them. (I was surprised by how little of an impression Trent Reznor and Atticus Ross's score left on me, but their "Soul" score should win the Oscar anyway, so it doesn't really matter.) "Mank" is a good movie. Not many people dispute that. But like some good movies, "Mank" isn't a particularly enjoyable or exciting one. I don't mean "exciting" as in "action-packed." I mean, "Mank" isn't the kind of movie you talk about around the water cooler—unless your coworker is a raging cinephile. "Mank" is timely, with fitting talk about the economic downturn of movie theaters (which was probably a coincidence) and the potential benefits of socialism (which was almost certainly not). But "Mank" is not explosive. It's not "Gone Girl" or "Zodiac" or "Se7en" or any other Fincher movie that people recommended to all of their friends right away because holy shit you need to see this as soon as you can!!!!! "Mank" is a great movie for people who love the Oscars and the types of movies that typically win them. And for Netflix, that may be all they're hoping for.
7/10