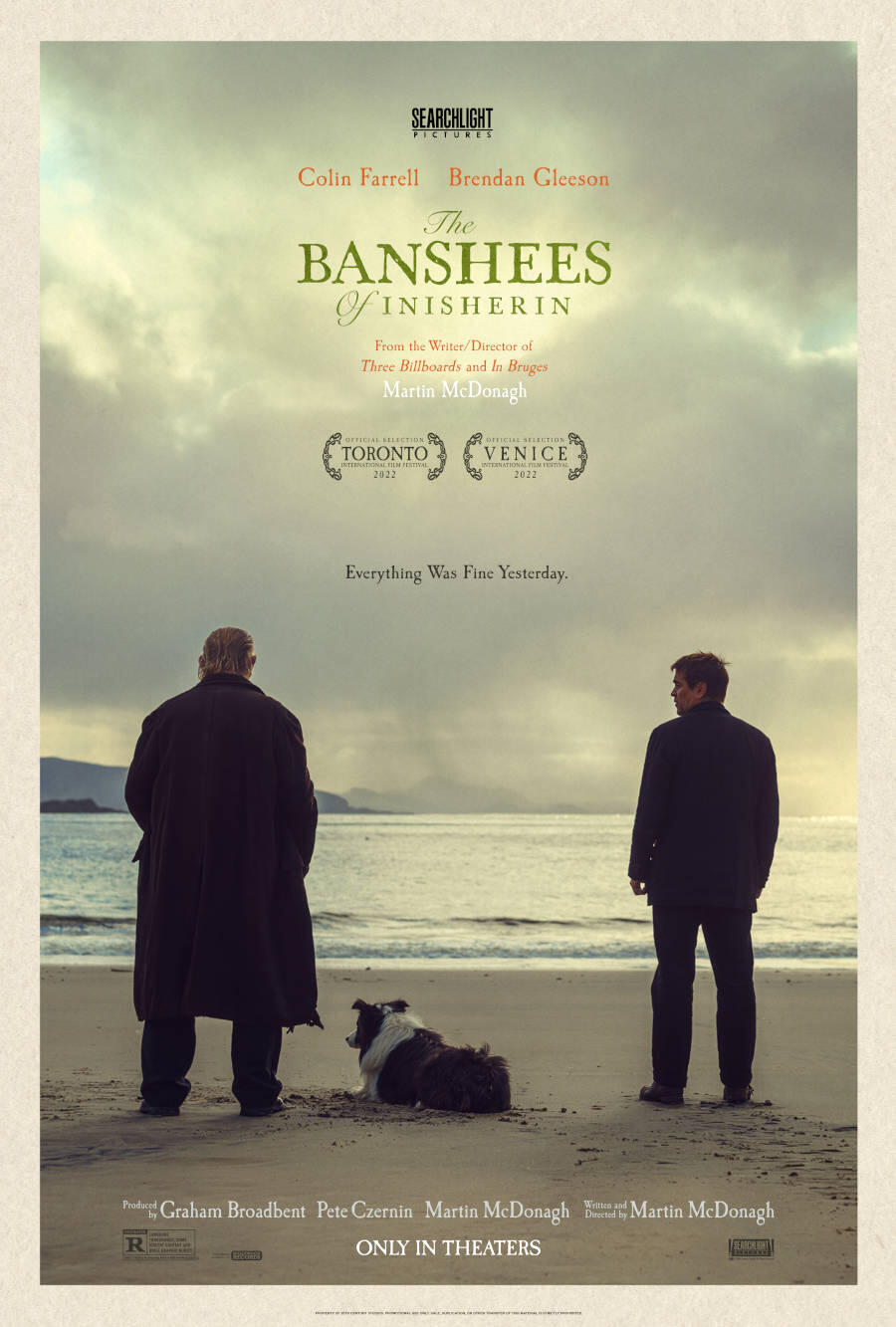 The Banshees of Inisherin (2022)
Directed by Martin McDonagh
Last time up to bat, director Martin McDonagh helmed an unfunny dark comedy that asked us to laugh about rape, racism, and police brutality. "Three Billboards Outside Ebbing, Missouri" included a redemption arc for a racist cop that left a bad taste in my mouth, and it only got worse in the five years since. I wasn't especially excited about what the Irish writer-director would do next, but when I saw the trailer for "The Banshees of Inisherin," I had a faint glimmer of hope that it would be a more straightforward comedy. NOPE. "Banshees"—about Irish artist Colm's (Brendan Gleeson) decision to dump his boring drinking buddy Padraig (Colin Farrell) and that friend's refusal to accept the break-up—is about as dark as an Irish stout…but at least it's better than McDonagh's last effort.
"The Banshees of Inisherin" is the kind of movie that is occasionally funny enough for a chuckle, but never for a laugh. The kind of movie where you might grow concerned if you saw someone laughing too hard at its dark story. Full disclosure: I don't usually love dark comedies. I can laugh at an uncomfortable joke here and there, but when the whole point is discomfort, I struggle to find enjoyment. McDonagh's tone has struck me as more insensitive than the Coen Brothers, or other writers of dark comedies. I suppose it's because dark comedies only work if you find them funny…if not, they're just, well, dark.
That said, I can't complain about Colin Farrell's handling of the script. Farrell is an underrated comedic genius, really, though one would usually not classify him as a comedian. Farrell picked up a worthy Oscar nomination for his efforts. Kerry Condon—who plays Padraig's lovely sister—shouldn't be overlooked despite her smaller role. As the only level head in the movie, she gets a handful of powerful scenes. Brendan Gleeson has a great time, too, though his role is less obviously funny than Farrell's. In fact, I think the movie is at its best when it's at its most serious, not its most comedic. There's a dramatic scene before the climax that had me excited for what was to come. It was the first time I had hope that the rest of the movie might be as good as I was hoping. I suspect that, perhaps, a rewatch would help me appreciate the movie for what it is—instead of what I expected it to be. At least Ireland is a lot nicer to look at than Ebbing, Missouri (actually, that movie was filmed in North Carolina).
"The Banshees of Inisherin" has more crying, sexual abuse, and dismemberment than any comedy I have ever seen, but I'm not sure I was in the mood to laugh at that. It's not a bad movie…it's just not a particularly funny one.
6.5/10