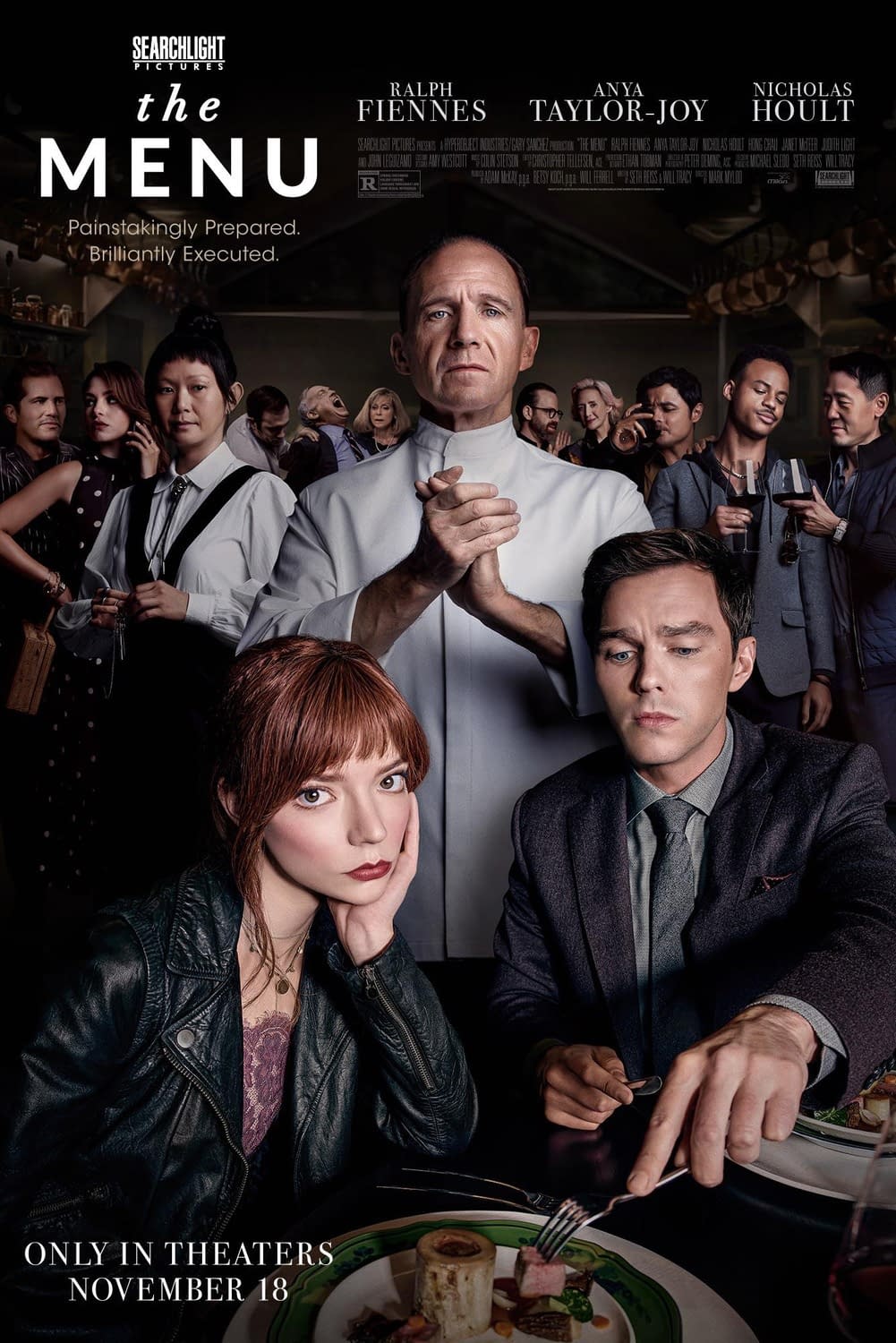 The Menu (2022)
Directed by Mark Mylod
"It's laughably good," a giddy foodie named Tyler (Nicholas Hoult) gushes when he first tastes the starter course. Tyler has brought a new date, Margot (Anya Taylor-Joy), to Hawthorne, a private restaurant run by the dictatorial Chef Julian Slowik (Ralph Fiennes) on a small, otherwise uninhabited island. Tyler and Margot are joined at this exclusive dinner by two longtime regulars at Hawthorne (played by Judith Light and Reed Birney), a movie star and his mistress (John Leguizamo and Aimee Carrero), a food critic and her husband (Janet McTeer and Paul Adelstein), a trio of finance bros (Rob Yang, Mark St. Cyr, and Arturo Castro), and a drunk old woman who sits alone (Rebecca Koon). Slowik's menu, Tyler explains, always tells a story…the goal is to figure out what that story is. But a series of unexpected surprises will throw the dinner into chaos, making Slowik's story anyone's guess.
Just like good food requires good ingredients, a good movie is nothing without a competent cast. "The Menu" boasts one of the best ensembles of the year. Ralph Fiennes delights in a darkly comedic role that makes one recall how wonderful he was in movies like "The Grand Budapest Hotel" and "Hail, Caesar." I didn't laugh harder all last year than I did when Fiennes rattled off one of the lines written for him by Seth Reiss and Will Tracy, formerly of the satirical newspaper The Onion and John Oliver's hilarious late-night show "Last Week Tonight." But Nicholas Hoult is stride-for-stride with Fiennes whenever the two interact. Hoult has shown his superb acting range in movies like "Mad Max: Fury Road" and "The Favorite," so I shouldn't have been as surprised as I was at how well he embodies his character here. Other bright spots include Anya Taylor-Joy, who has a less comedic role, and Hong Chau, who has a very comedic one. But there's truly not a weak spot here.
"The Menu" is the best dark comedy I have seen in ages, and its laugh-a-minute script isn't even the only thing the writing has going for it. It was also as thrilling as almost anything I saw in 2022. And if that wasn't enough, its underlying social commentary backs up the humor. The writing is smart without being patronizing. I haven't had this much fun watching a movie in months.
It's laughably good.
8.5/10