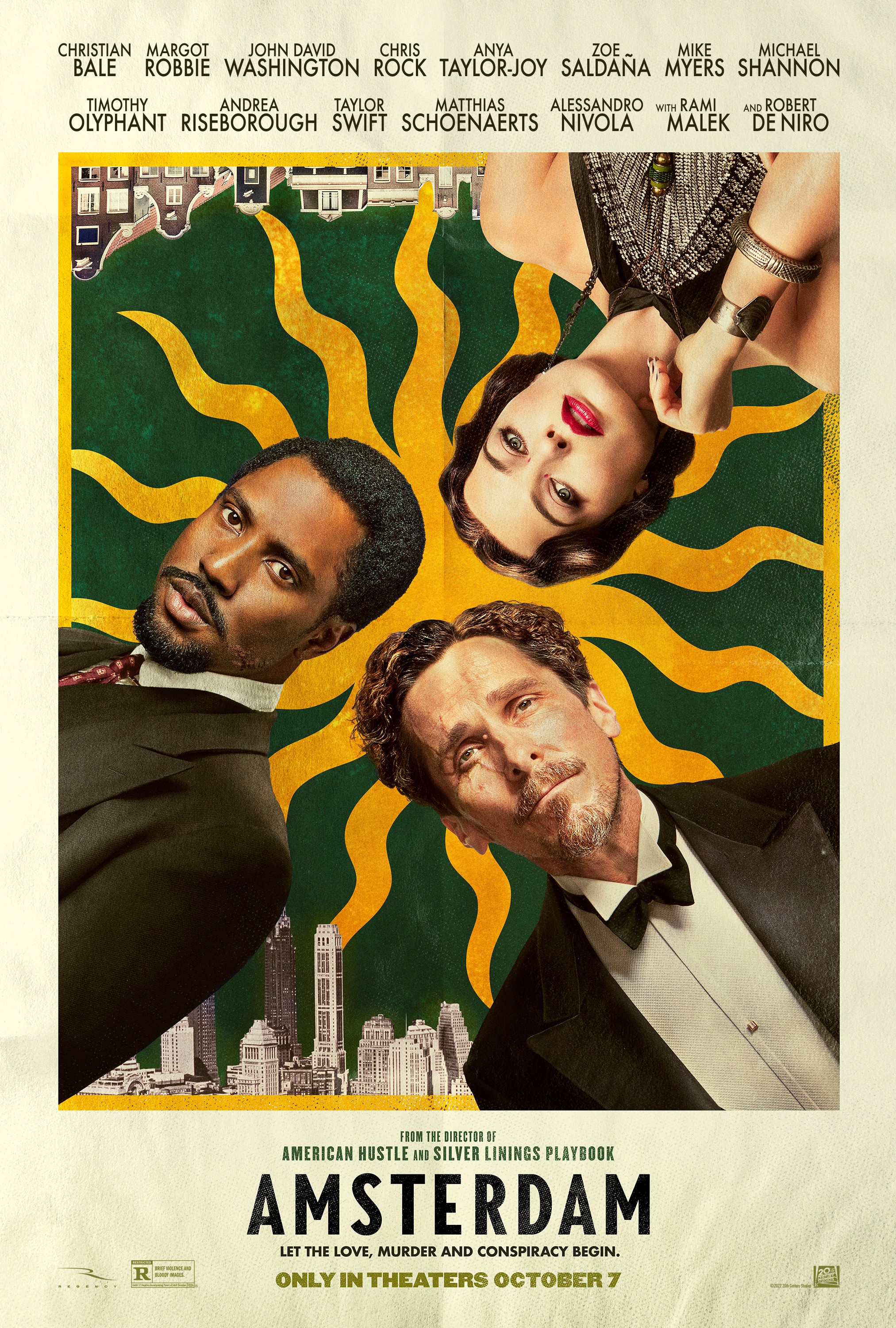 Amsterdam (2022)
Directed by David O. Russell
David O. Russell can tell a damn good backstory. I'll give him that. His characters never make it to the screen unless they have sufficient texture to feel real. Those little eccentricities help make his characters come to life. It doesn't hurt that Russell has been able to get damn good actors. In "Amsterdam," Russell's most expensive directorial effort yet, he gets them all—at least a dozen names that'll be recognized by even the casual moviegoer. But despite a cast that could field an Oscar nominee in every acting category, "Amsterdam" can't overcome its jumbled start out of the gate.
Based on the true story of the 1933 "Business Plot" (a barely planned scheme to overthrow President Franklin Roosevelt and install a military junta), "Amsterdam" inserts three new characters—Burt (Christian Bale), Harold (John David Washington), and Valerie (Margot Robbie) to help weave this crazy yarn. The trio meets in France during the Great War, when Burt and Harold come to Valerie's hospital with shrapnel wounds. They vow never to break up their pact, but when Burt and Harold return to America, Valerie is left upset. A decade later, their passes cross again when Burt and Harold are accused of murder and have to clear their names. In the process, they uncover a conspiracy too absurd to believe.
While this true story might be ripe with potential, David O. Russell struggles to craft a compelling narrative from the admittedly little that is known about the Business Plot. The truth is, the scheme never really got off the ground…though many men tried. "Amsterdam" takes that kernel of truth, and tries to build from it—with mixed success. While it begins too quickly, it soon backs up to fill in the backstory of the fictional characters. This is where Russell excels. He invents the three main characters from scratch, and does it well. Burt is undoubtedly the most interesting. It doesn't hurt that Christian Bale never doesn't commit. Without having seen many of the major award contenders that will come out in the last three months of the year, I can say that Bale climbed to the top of my Best Actor ballot for now. Robert De Niro, playing an aging general, turns in another fantastic supporting performance in a David O. Russell movie (after "Silver Linings Playbook" and "Joy"), and Margot Robbie may be at her best since she was nominated for an Oscar for "I, Tonya."
But despite the acting stalwarts who do their best to make "Amsterdam" work, the story felt as incoherent as one of the nonsense song the main characters are fond of singing. Its Scooby-Doo mystery only barely comes together at the end, but by then it's too late. It's a major disappointment, considering how fond I've been of movies like "The Fighter" and "American Hustle," where David O. Russell is able to formulate a story that builds up gradually until the end. I hope the Academy doesn't penalize the actors for starring in a subpar movie, though, because some of their performances should definitely be considered.
5/10