Running between 3 minutes and 32 minutes, these nine incredible films know how to keep it short and sweet. Whether you're in the mood for animation or documentary, comedy or drama, these short films have got you covered.
Graven Image (2017)
Field of Vision, the documentary arm of parent company First Look Media (who also runs The Intercept, a great news source if you're looking for one), has made several short documentaries that expose nasty truths about our world. "Graven Image," the best of the bunch, explores the history of a Confederate monument in Georgia. It asks, "What does it say about us that this monument still exists?" Other great short docs include "In the Absence," the Oscar-nominated "A Night at the Garden," "Elevator Pitch," "Libre," and their latest, "Open Shutters." You can find all these and many more on Field of Vision's YouTube page.
Winnie the Pooh and the Blustery Day (1968)
If cut-throat investigative filmmaking isn't your cup of tea, how about an animated outing for a childhood favorite? After 1966's "Winnie the Pooh and the Honey Tree" (which is also great fun) introduced Pooh to the big screen, director Wolfgang Reitherman returned two years later with another story from A.A. Milne's delightful novels: "Winnie the Pooh and the Blustery Day." In this 25-minute short, a flood in the Hundred Acre Wood poses special challenges for Pooh and his friends. You can find this short on YouTube, or you can watch 1977's "The Many Adventures of Winnie the Pooh" on Disney Plus to see this scene with more context (the feature-length anthology film combined three previous shorts and added a bit of new material).
Whiplash (2013)
Damien Chazelle's feature-length movie "Whiplash," which released in 2014, put the young director on the map. But I think I prefer the short he made a year prior, which also stars J.K. Simmons as a deranged music teacher and includes the best parts of the feature-length movie without some of the boring parts (mainly, the fluff about the main character's dad and girlfriend). You can watch "Whiplash" on YouTube.
The Ugly Duckling (1939)
Back to Disney, who arguably has the best track record for short film success across the entire history of cinema. The animation giant's "Silly Symphony" series combined colorful animation with music, and these shorts usually had little to no dialogue. "The Ugly Duckling," based on the classic Hans Christian Andersen story, is an adorable tale about not fitting in. It has the added benefit of featuring Clarence Nash, the original voice of Donald Duck, playing every part. "The Ugly Duckling" can be found on Disney Plus.
Munchausen (2013)
Ari Aster, director of "Hereditary" and "Midsommar," deserves all the money he can get to make whatever he wants. In "Munchausen," a mother decides to delay her only son's departure for college using a method that's not in the parenting books. Aster's short film looks and sounds like a fairy tale, which makes the content even more sinister. You can find "Munchausen" on YouTube.
Duck Amuck (1953)
Cartoonist Chuck Jones is the man behind some of Looney Tunes' best bits, but one particularly inventive short is "Duck Amuck," which stars Daffy Duck (voiced by Mel Blanc) in a fourth-wall-breaking story about one omnipotent animator with the power to alter worlds. As the hand of the animator (Jones) erases and redraws Daffy's surroundings like DoodleBob on bath salts, this cartoon goes further and further off the rails…with hythterical results. Find "Duck Amuck" on YouTube here.
Marcel the Shell with Shoes On (2010)
Though the feature-length movie just released, the character of Marcel the Shell (voiced with relish by Jenny Slate) has been around on YouTube for a dozen years now. Marcel, living in the shadows of a New York apartment, uses whatever he can find to get by. A toenail clipping is a ski, a lentil is a hat, and a leaf is salad for Marcel and all his friends. When people talk about their favorite early YouTube videos, most of them have not held up very well over time. Usually, you look back and question what our state of mind could have been to enjoy something so hideous (I'm looking at you, "Salad Fingers"). But in the case of Marcel, early YouTube aged like wine.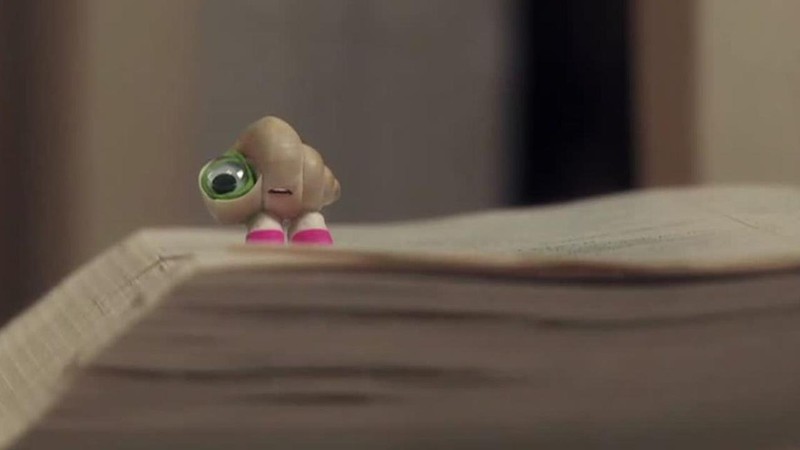 Robin Robin (2021)
Oscar nominee "Robin Robin," a stop-motion-animated, Christmas-set movie about a robin raised by mice, has a wickedly good sense of humor. The writing is phenomenal, and the voice acting (with a cast that includes Richard E. Grant and Gillian Anderson) really makes these felt creations come to life. "Robin Robin" was created by two newcomers, whose pitch to the studio behind "Wallace and Gromit" was so convincing, they got their movie made with little pushback. "Robin Robin" is on Netflix.
Night and Fog (1956)
On HBO Max, you can find this heartbreaking 32-minute documentary about Hitler's concentration camps. Directed by French filmmaker Alain Resnais, "Night and Fog" was made when the memories of WWII were still very fresh. Its color cinematography and its score are almost cheerful, which makes this documentary even more unsettling. And more powerful.