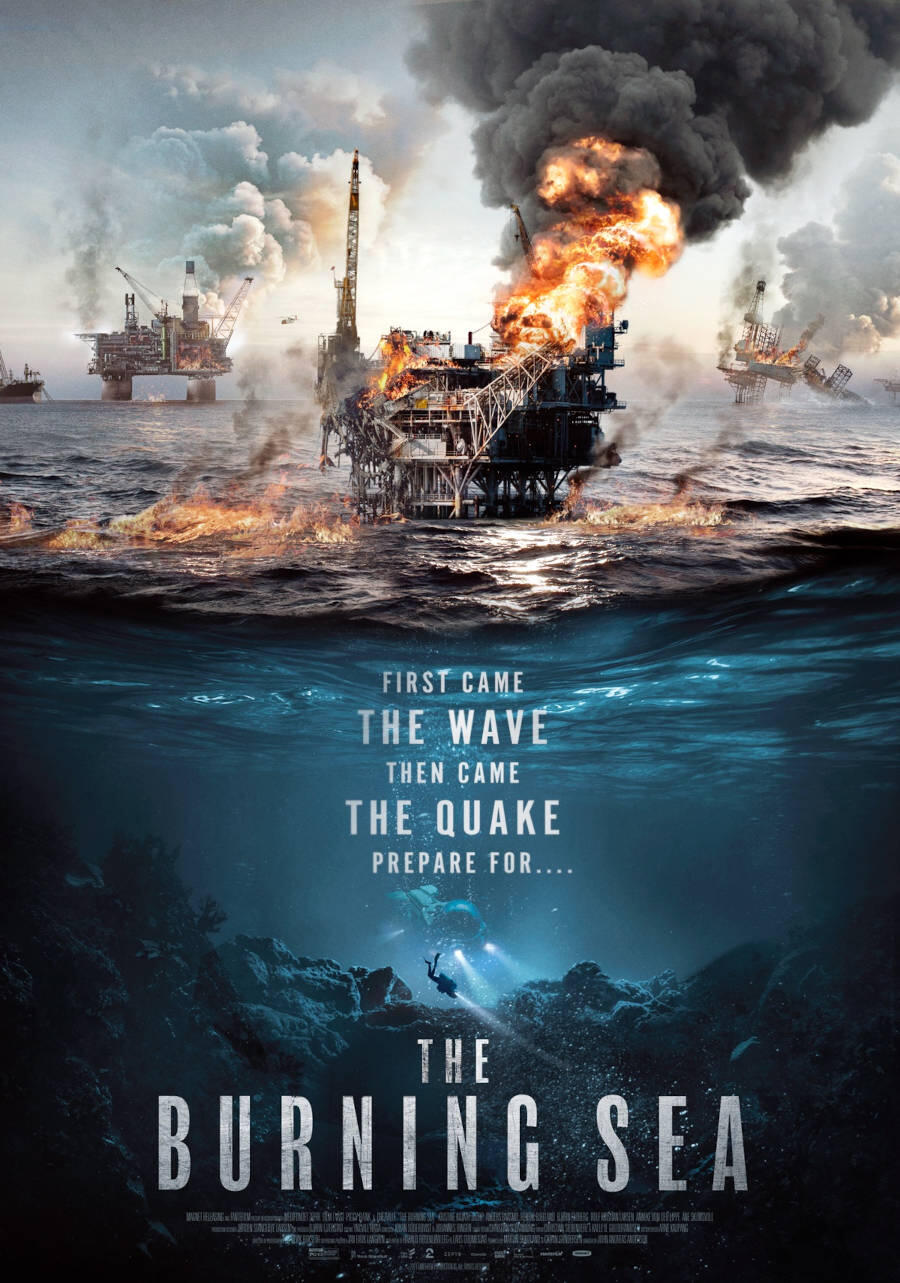 The Burning Sea (2021)
Directed by John Andreas Andersen
Between 2015 and 2021, Norwegian production company Fantefilm released three disaster movies written by Harald Rosenløw-Eeg that rivaled Paul Greengrass, Roland Emmerich, and their ilk. The first two films, "The Wave" and "The Quake," starred likable Norwegian actor Kristoffer Joner as a struggling dad and workaholic geologist named Kristian, who predicts both movies' natural disasters and whose family is caught in the middle of them. Imagine my disappointment, then, when I found out Rosenløw-Eeg's third movie of this sort was not a direct sequel and would not star Joner. This despite the fact that "The Burning Sea" could have easily wedged Joner's character into its plot! Nevertheless, the third time is a charm for the Scandinavian country and its newfound aptitude for effects-driven disaster movies.
Norway, as one character explains, is an oil country. The ocean to the north of the country's border is peppered with oil rigs pumping black gold from the seabed at an exhausting rate. When a geological shift takes down one rig, and threatens to take down hundreds more soon, an evacuation is ordered. But the government agencies can only move so quickly to rescue the thousands of oil rig workers who need to be saved. One, Stian (Henrik Bjelland), doesn't make it onto the evacuation helicopter. But his girlfriend, a robotics engineer named Sofia (Kristine Kujath Thorp), has a plan. Well, it's more like a suicide mission.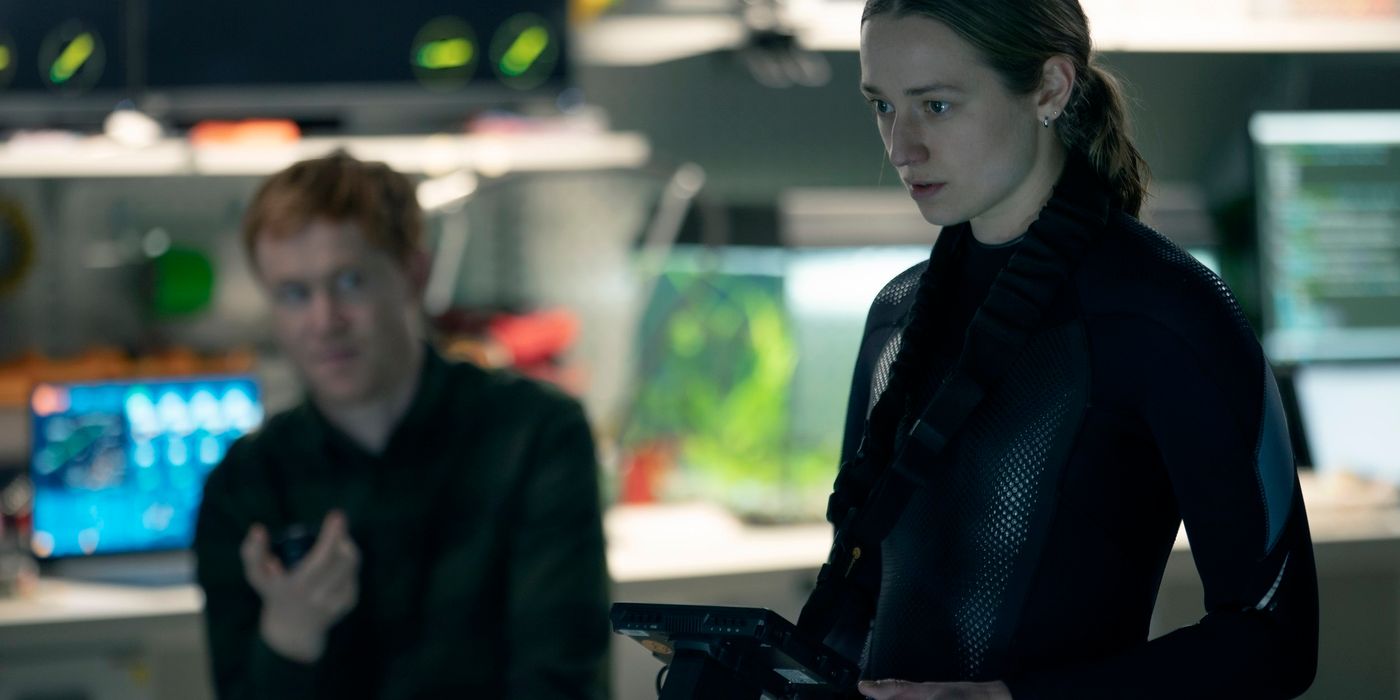 Despite not inviting Kristoffer Joner to participate, "The Burning Sea" continues a trend of thrilling Norwegian disaster cinema that makes this critic, for one, very happy. Disaster movies are rarely objectively good, but they've been a guilty pleasure of mine ever since middle school. Even when they touch on all the usual tropes, I find myself rooting for the main character's survival and marveling at the special effects that turn regular landscapes into fiery hellscapes with imminent mass casualties. But refreshingly, "The Burning Sea" actually dispenses with some of these tropes. Yes, we still have to watch as a scientist desperately begs to talk to a government official to warm him of impending doom. But while most of these movies show these warnings falling on deaf ears (usually because the government officials don't trust the science, don't want to put in the extra work, or don't want to spend money on a what-if), in "The Burning Sea," the government agency actually believes the science. It's interesting that in Scandinavia, even a disaster movie writer might think it too ludicrous to have characters ignore overwhelming data…while in America, it's just par for the course. Another thing I appreciated about "The Burning Sea" is that its strongest, bravest character is a woman who wants to save her boyfriend, and not the other way around. Stian is what some incels in America might call a "beta male," because he's an emotional and caring person who isn't too macho to accept help. In an American remake, movies like this would inevitably star someone like Dwayne Johnson, who is so bulky he no longer resembles a real human being (and usually struggles with acting like one, too). On the other hand, Henrik Bjelland seems more than comfortable tapping into his emotions.
Norway's version of "Deepwater Horizon" isn't quite as tense as Peter Berg's thriller, nor is it as exciting as "The Wave" or "The Quake," but as a continuation of this string of disaster movies by writer Harald Rosenløw-Eeg, I'll take what I can get. Beggars can't be choosers and all that. All three of these movies have been consistent, building up the character's stories and setting up the tension before hitting us with the worst-case scenarios. ("The Quake" didn't need to spend as much time introducing the characters, because we already knew a couple of them—that's why it's my favorite so far.) I don't know if we can expect another disaster movie from Rosenløw-Eeg in a couple years, or whether or not it will star Kristoffer Joner, but I really look forward to finding out.
6.5/10