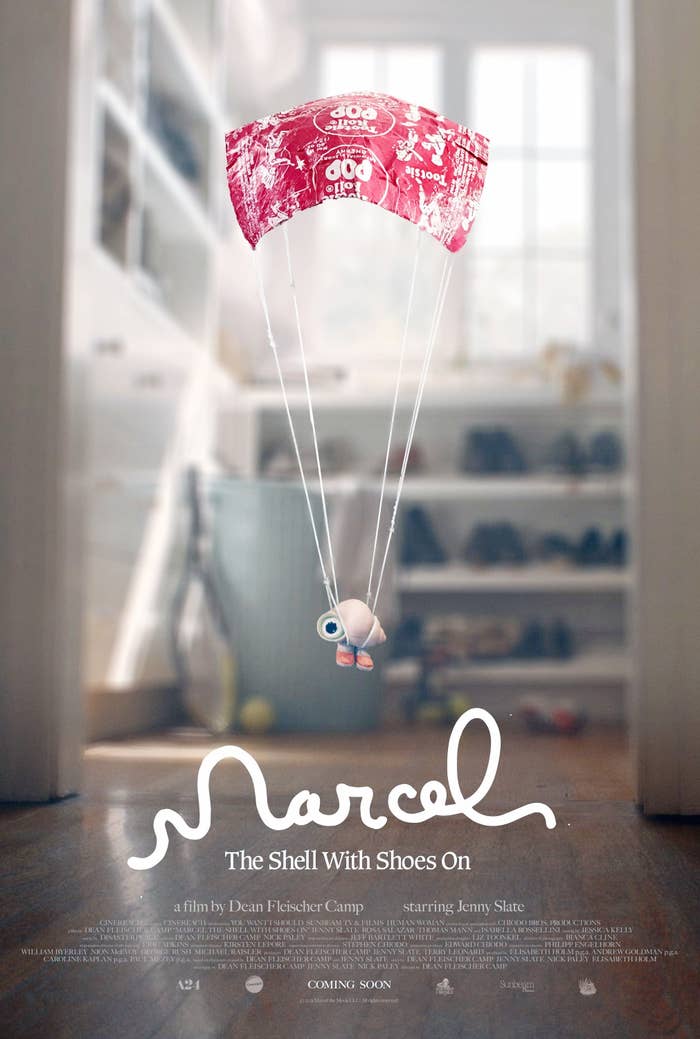 Marcel the Shell with Shoes On (2022)
Directed by Dean Fleischer-Camp
Dean Fleischer-Camp and his then-girlfriend Jenny Slate came up with the idea for Marcel the Shell in a hotel room after a friend's wedding. They shot the original three-minute short in their Brooklyn apartment (with Slate voicing the adorable shell with two shoes and one eye), and, reluctantly—at the urging of their comedy friends—posted it on YouTube in October 2010. They would go on to create two more Marcel videos: the second released about a year later (shortly before the pair got hitched) and the third came in 2014. The pair divorced in 2019, but that didn't stop them from jumping at the chance to bring Marcel to the big screen. "Marcel the Shell with Shoes On" is not only video four, it's video A Twenty-Four (I know this joke is bad but I'm leaving it in).
The faux-documentary introduces us to a new character, Marcel's (Jenny Slate) grandmother Connie (Isabella Rossellini). Everyone else in their tight-knit community of shells and such, we learn, was recently taken away by accident when the man who owned the house they all lived in suddenly moved out. The house was bought and turned into an AirBnB, so Marcel and Connie has had to deal with the comings and goings of all sorts of new guests. One day, filmmaker Dean Fleischer-Camp (the director, playing himself) checks into the rental, fresh off a break-up, and decides to film Marcel. Marcel tells him about how he and his grandmother lives and how the rest of their family, friends, and neighbors were taken away…and together, they try to find them.
"Marcel the Shell with Shoes On" is a warm hug of a movie. Light on plot and heavy on adorable miniature mishaps, Marcel's search for his family is incredibly sweet…and likely something I'll forget about quickly. Don't get me wrong—the feature-length movie is more meaningful than the shorts, and touches on themes of community and belonging. When Marcel discovers the internet, he also finds a new community of online followers (though they're no match for the community he lost). But basically, the movie plods along showing the hilarious and creative hijinks Marcel gets himself into. Most of the humor comes from genuine, deep moments that are corrupted by Marcel's naivety. The rest of the humor comes from Dean Fleischer-Camp's authentic laughter. That he can laugh so heartily at something he knows is fictional is honestly impressive. But then again, he gets us to do the same thing. "Marcel the Shell with Shoes On" is the lesser of the two A24 movies featuring Jenny Slate this year (if you haven't seen "Everything Everywhere All at Once," you're seriously missing out), but it's a sweet addendum to the viral trilogy that made this cute little shell a household name.
6.5/10