West Side Story (2021)
Directed by Steven Spielberg
Full disclosure: I haven't seen the original 1961 "West Side Story" since I was young, because I remember disliking most of the songs. As I watched Steven Spielberg's updated 2021 adaptation, I felt the same way. While the singing is commendable, the songs themselves were a little too…Sondheim. I know, I know. Blasphemy. But I'll be rooting for "West Side Story" to take home the Academy Award for Best Picture—like the original did 60 years ago—because, despite being cool on the songs, the rest of the movie is a powder-keg of cinematic excitement.
When a Puerto Rican gang called the Sharks catches the rival Jets gang (made up of White Americans) smearing paint on a Puerto Rican mural, the tensions that had been boiling will finally begin to boil over. But when Tony (Ansel Elgort)—a Jet who was recently released from jail—catches feelings for a Puerto Rican girl named Maria (Rachel Zegler) who is also the sister of the Sharks' leader Bernardo (David Alvarez), he tries to convince Riff (Mike Faist) and the other Jets to call off the big rumble. Why can't we all just get along, you can almost hear him plead. Bernardo's girlfriend Anita (Ariana DeBose), who has become a loyal friend to Maria, is caught in the middle. Meanwhile, the threat of police breaking up the gang war lurks around every corner.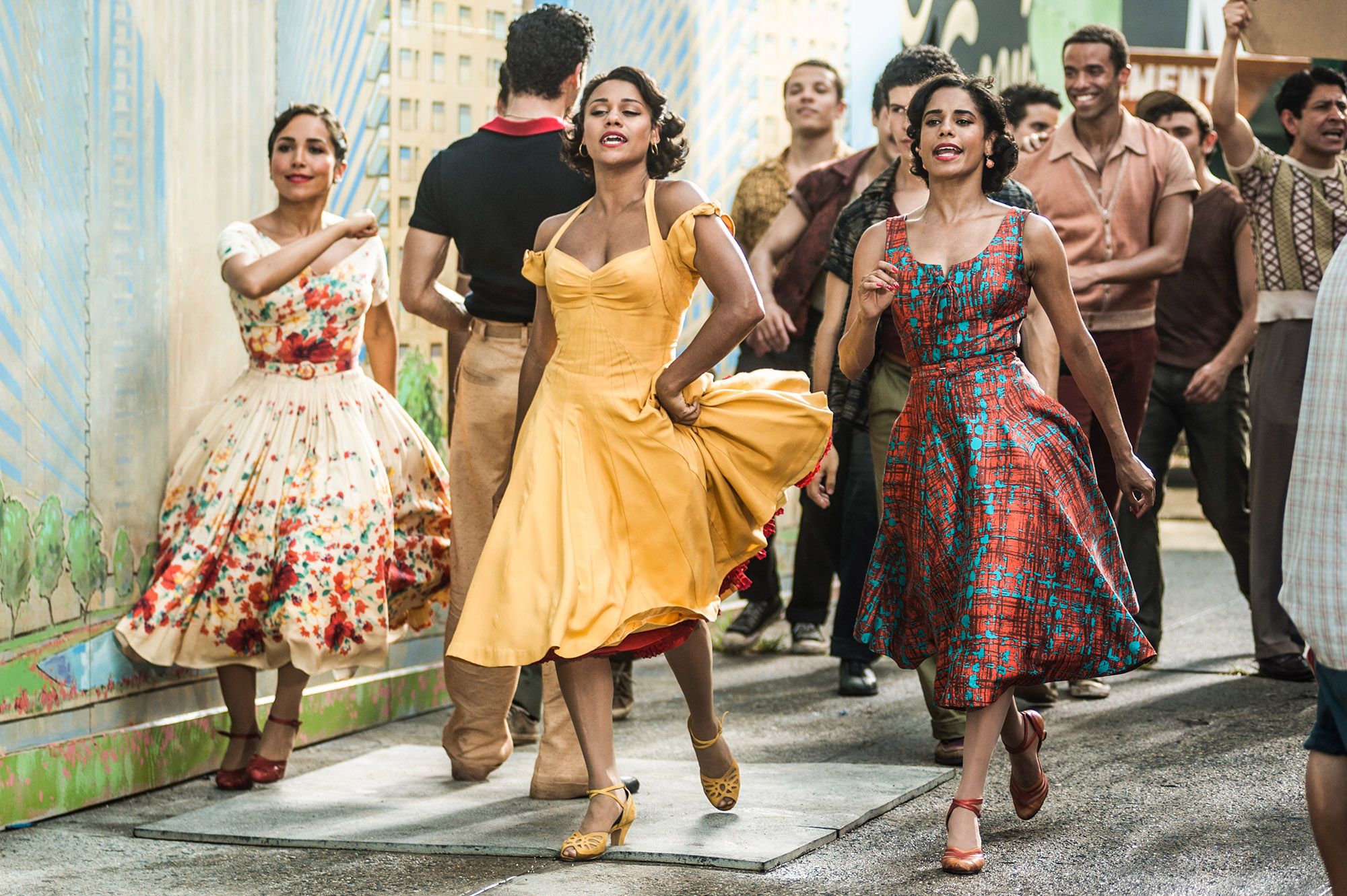 Last year was a year of great musicals. "West Side Story" and "In the Heights" were bound by destiny to release the same year. Both are about the Puerto Rican experience in New York City, and both embrace a larger-than-life view of what song-and-dance choreography can look like. These movies take place in a world where dancing can shut down pools and literally stop traffic. "In the Heights" was not the first movie I had seen in theaters since the start of COVID, but it was the first one that reminded me what I had been missing watching movies at home. "West Side Story" is similar in that way. It's why Steven Spielberg refused to stream the movie until it had been in theaters for three full months (okay, another disclosure…I did wait until it was on HBO Max to see this).
Ariana DeBose is contending for the same Oscar that Rita Moreno won sixty years ago for the role of Anita. DeBose is spectacular. If she wins (and it's likely, at this point), she'd be the first actress to win an Oscar for playing a role that already won someone else an Oscar. This has happened a few times in the male categories. DeBose may be the only Oscar nominee from the cast, but she's not alone in her greatness. Rachel Zegler—who, at 16, beat out 30,000 applicants for the role of Maria—won the Golden Globe for Best Actress in a Comedy/Musical. This was her first movie role, but you can hardly tell. Another rising star—he's appeared in a few small movies, but nothing like this—is Mike Faist, who's a terrific Riff. I had heard positive reactions about some of the performances, but Faist was a big surprise.
The look of "West Side Story" is unmatched. It paints a picture of mid-century New York that looks both intentionally theatrical and entirely believable. I'd say I want to live in it, if it wasn't so violent and run-down. Steven Spielberg makes the kind of movies I hope never dies out. He takes the backhanded compliment "crowd-pleaser" and fully embraces it, without forgetting about all the technical details that other crowd-pleasers skip over. The fact that it bombed at the box office is another story entirely, one most likely rooted in COVID fears and the fact that people couldn't find time to see a three-hour movie in theaters. Regardless, I hope people who see it now realize what they missed. I know I do.
8/10