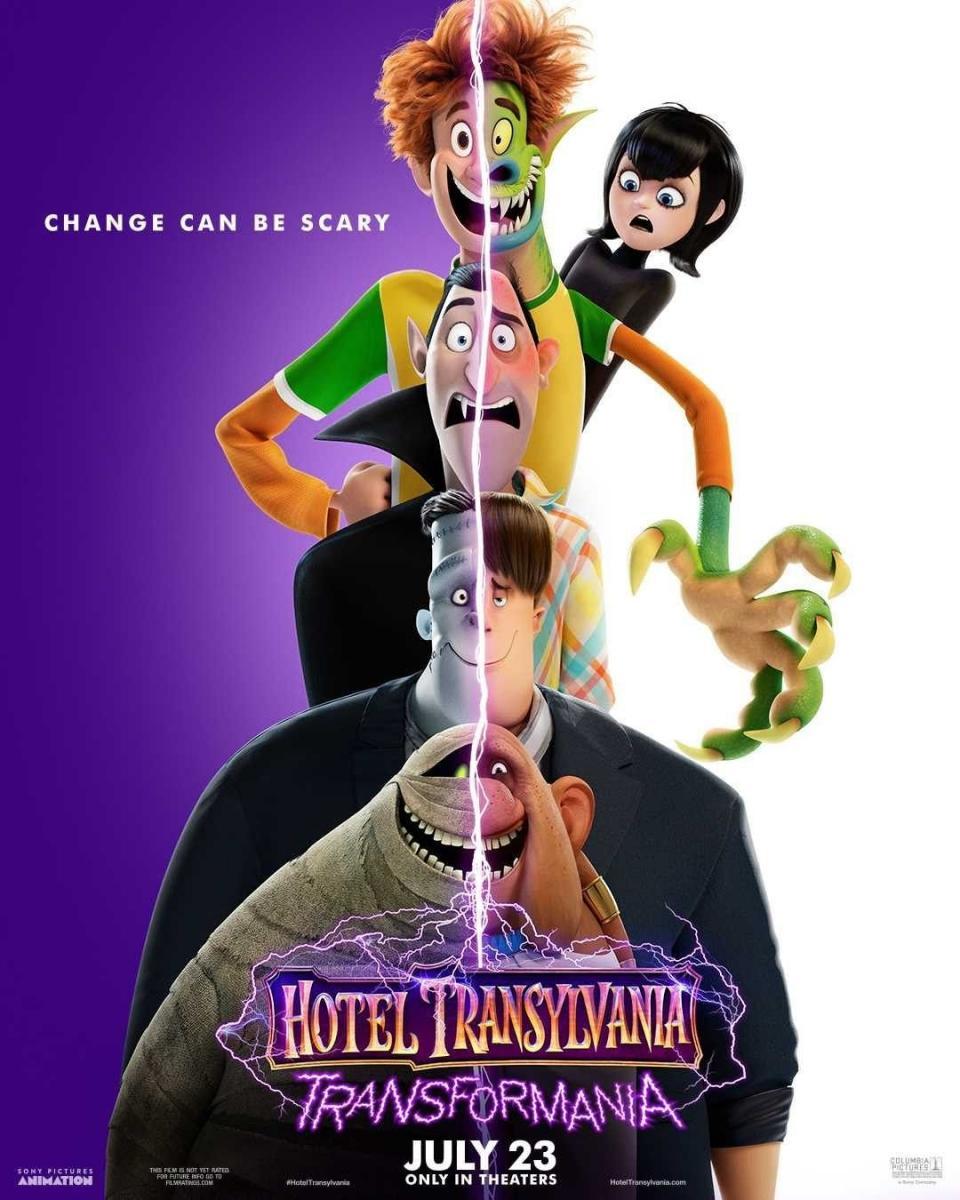 Hotel Transylvania: Transformania (2022)
Directed by Jennifer Kluska and Derek Drymon
The gang is back and more chaotically childish than ever in "Hotel Transylvania: Transformania." Well, most of them are back. For reasons yet unexplained, Adam Sandler is out. In his place, Brian Hull does his best Sandler-as-Drac impression. Out, too, is Sandler's pal Kevin James, who played Frank in the first three films. And although Genndy Tartakovsky—who directed the first three movies—helped pen the script, the directing duties went to two less experienced directors.
Will you even notice a difference? Maybe not. On the whole, "Transformania" (which we've been informed marks the end of the franchise) falls right in line with the rest of the "Hotel Transylvania" series. In this sequel, Drac (Brian Hull) is about ready to retire and hand the keys to the hotel over to his daughter Mavis (Selena Gomez) and son-in-law Johnny (Andy Samberg). But when suddenly Drac changes his mind, Johnny thinks the only thing that might help him earn Drac's trust and affection is if he, too, was a monster. So, he uses Van Helsing's (Jim Gaffigan) monster-maker invention to turn himself into one. Unfortunately, the invention also causes some unforeseen effects. To fix things, Drac and Johnny will have to travel to South America…with the rest of the ghouls eventually following along!
Brian Hull's voice acting sounds pretty similar to Sandler, but for some reason it's still not the same. Maybe the only reason "Hotel Transylvania" was worthwhile to me was because I knew Adam Sandler—he of the recent critical darlings "The Meyerowitz Stories" and "Uncut Gems" —was involved. But otherwise, "Transformania" is about on par with the first three movies. Despite this sequel having a somewhat interesting idea for the story, I laughed about as much as I did watching the first movies—not a ton. Once again, my least favorite part might have been Andy Samberg. I always thought he was a bad choice for the role. The voice he uses is just too grating to my ears, and I can't believe I'm the only one who feels this way. But if you're thinking about watching a fourth "Hotel Transylvania" movie, chances are good that you'll enjoy it. Hopefully you have Prime. Since Sony sold the movie to Amazon last year amid a wild release schedule shift (thanks, COVID), you'll only be able to watch this latest installment on Amazon's streamer.
4.5/10