Encanto (2021)
Directed by Byron Howard and Jared Bush
Even if nobody in the crowd knew it when they walked into the theater, it only took one or two songs for all of us to be on the same page: "Lin-Manuel Miranda wrote these songs, didn't he?" After "In the Heights," "Hamilton," "Moana," and "Mary Poppins Returns," Miranda's musical idiosyncrasies are recognizable almost instantly. But in "Encanto," one or two times his music threw me for a loop. "Surface Pressure," a song about the weight of expectations placed upon a fantastically strong member of the Madrigal family, was the weakest point—listening to its more grown-up lyrics, sung by the cast's lousiest singer (she was a wonderful voice actor otherwise!), would be enough to physically drain anyone. Even the songs I thought were good weren't exactly catchy, like Alan Menken's best. I can't picture any of these songs on the track list of future Disney compilation albums.
But if you think a half-dozen songs will make or break this delightful film, you needn't worry. "Encanto" is unlike many Disney animated movies in that it doesn't take its main character on a grand adventure. Instead, Mirabel Madrigal (Stephanie Beatriz) stays home. How COVID chic! But the Madrigal compound isn't a normal home. It's literally magical. When the family patriarch was killed fleeing his home in Columbia with his wife Alma (Maria Cecilia Botero) and triplets, Alma was blessed with a "miracle" (as she calls it) that gave the Madrigal family a magical house and a community all their own—one without the dangers they left behind when they fled their homeland. Now, whenever a Madrigal child or grandchild comes of age, they get a special power. But Mirabel never did, and now the magical candle doesn't burn so bright. Is it Mirabel's fault? What can she do to restore the magic in the Madrigal family?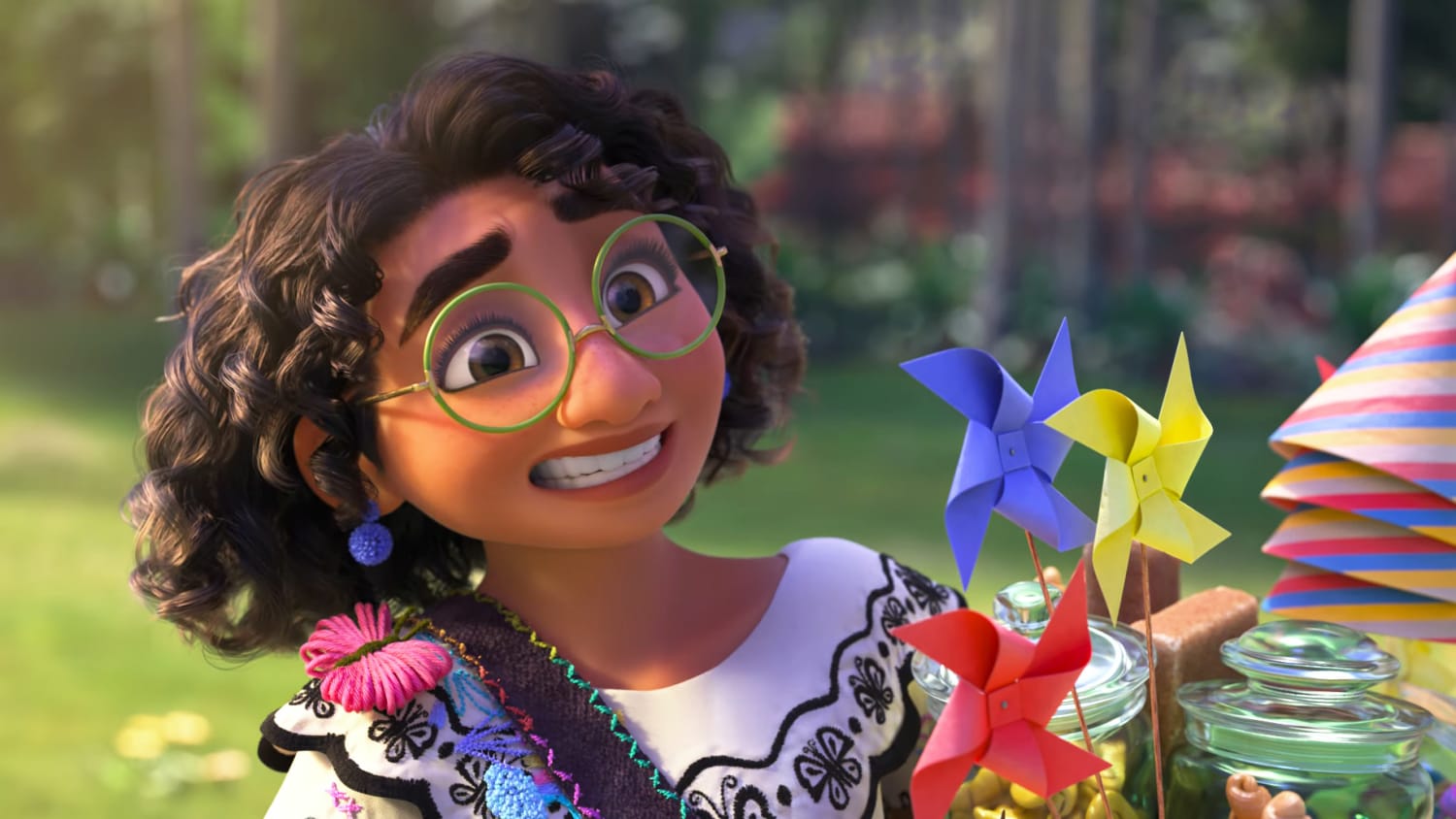 On the one hand, "Encanto" is very much the same Disney we've all grown up with—with elements of fantasy, drama, comedy, and music coming together like only the world's most famous animation studio can. We're once again treated to animal characters with no dialogue but tons of personality. And characters that grow and change until the audience is on their side. Walt Disney Animation Studios has an almost blemish-free track record. Of the now 60 films under its belt, I think you can count on one hand how many of them were actually bad. But "Encanto" feels different than others. It feels more sincere than I remember other Disney movies being. The voice acting isn't grandiose like, say, Robin Williams's Genie, but it's more realistic. Stephanie Beatriz doesn't sound as much like an animated movie character as she does your actual quirky cousin. You'll know what I mean when you hear it, I think. There's something really authentic about "Encanto" that you don't often see. I was also a big fan of John Leguizamo's acting. As the outcast uncle Bruno, Leguizamo delivers most of the funniest lines despite not being in the film for quite as long.
"Encanto" is incredibly sweet. And the fact that it could keep us entertained without ever really leaving the Madrigal home is a miracle in itself. I don't know what the future holds for its legacy—will "Encanto" be remembered for decades, or just a few years?—but for now I think it's a movie that deserves to be seen and enjoyed. With selflessness and love in seemingly short supply right now, hopefully "Encanto" can remind folks of what truly matters.
7.5/10