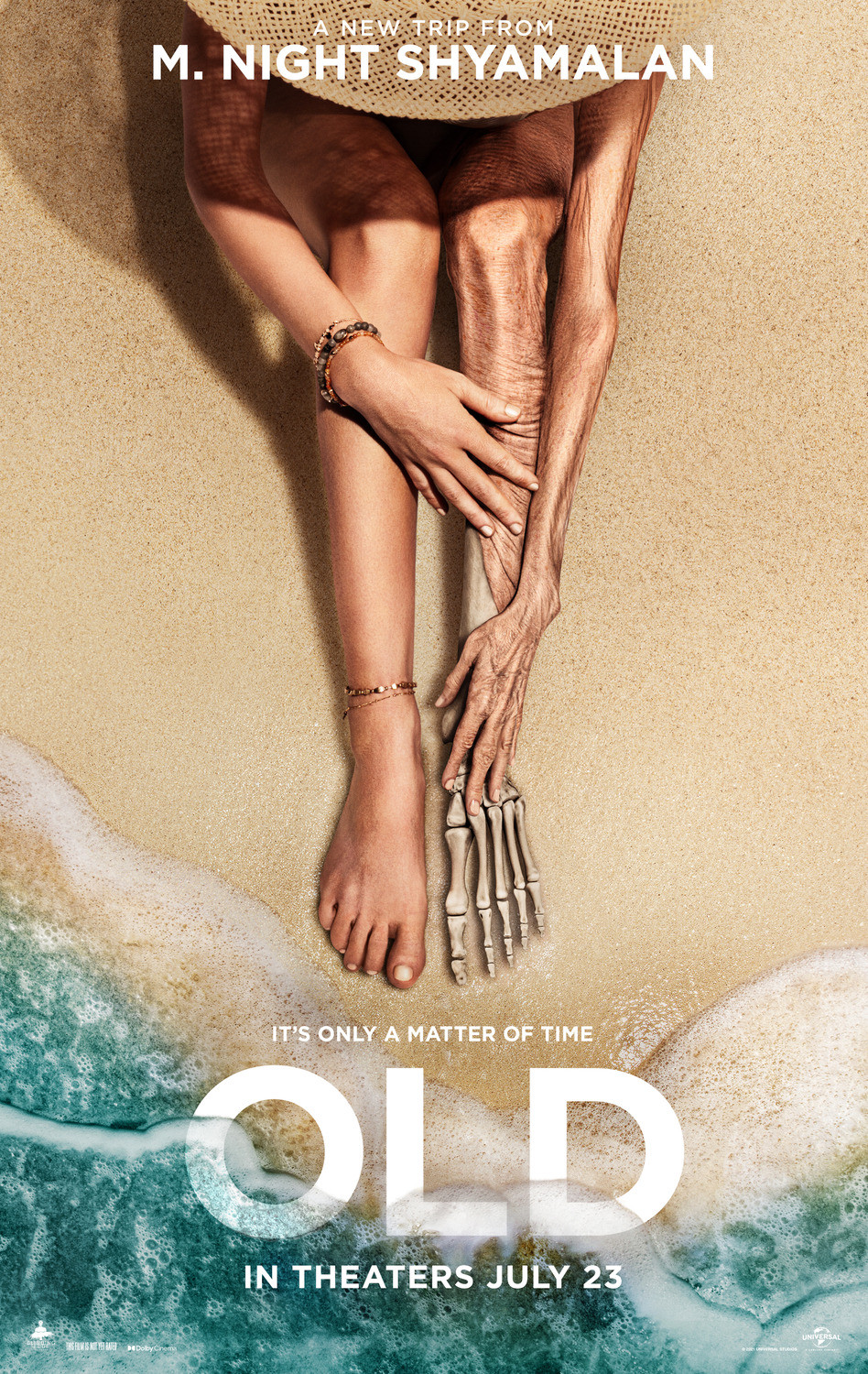 Old (2021)
Directed by M. Night Shyamalan
After M. Night Shyamalan had his own mini renaissance in 2015 and 2016 with "The Visit" and "Split," his future was looking bright. Those two thrillers marked a return to form for Shyamalan, after a solid ten years of duds from the director. Then came "Glass," his sequel to "Split" and "Unbreakable." I didn't love that, but I wasn't a huge fan of "Unbreakable" either so I didn't write him off for it. But "Old" comes at an important point for Shyamalan. What will his legacy be? I guess, in one word, I'd say…inconsistent.
They've come to a luxurious resort to escape their troubles at home, but the eleven people (two families, one couple, and a famous rapper) dropped off at a private beach will soon find that it's anything but relaxing. Instead, something about the beach is making time pass quickly (about two years for every hour, they figure). And if they don't escape quickly, they might all be claimed by old age before they can get home.
Normally, Shyamalan is the mastermind of his movies and serves as not only the director but also the sole writer. The last time a movie of his didn't come from his mind alone, it became one of the worst-reviewed movies in history: "The Last Airbender." The other movie he got writing help from, "After Earth," hardly fared better. So the fact that "Old" is based on a graphic novel should tell you one thing: that Shyamalan had to work within certain constraints, even if he was able to loosen those holds a bit. And he does loosen them, as many of the film's final scenes never appear in the novel. This includes a classic M. Night Shyamalan twist toward the end, but I found that to be underwhelming. Considering that's a major draw for any Shyamalan movie, I was hoping for something more shocking and more emotionally resonant than what we got. That said, after reading a synopsis of the book I am glad that Shyamalan gave this story a definitive resolution. Whereas the novel is more cryptic (and at times, even the movie is too vague for my taste), "Old" eventually clears the air. Maybe you consider that catering to the dummies in the crowd, like me, but I was at least happy he made an attempt. Do I wish his attempt would have been a bit stronger? Well, yes. Could I have come up with something more shocking. Definitely not. But that's why he's M. Night Shyamalan and I'm not!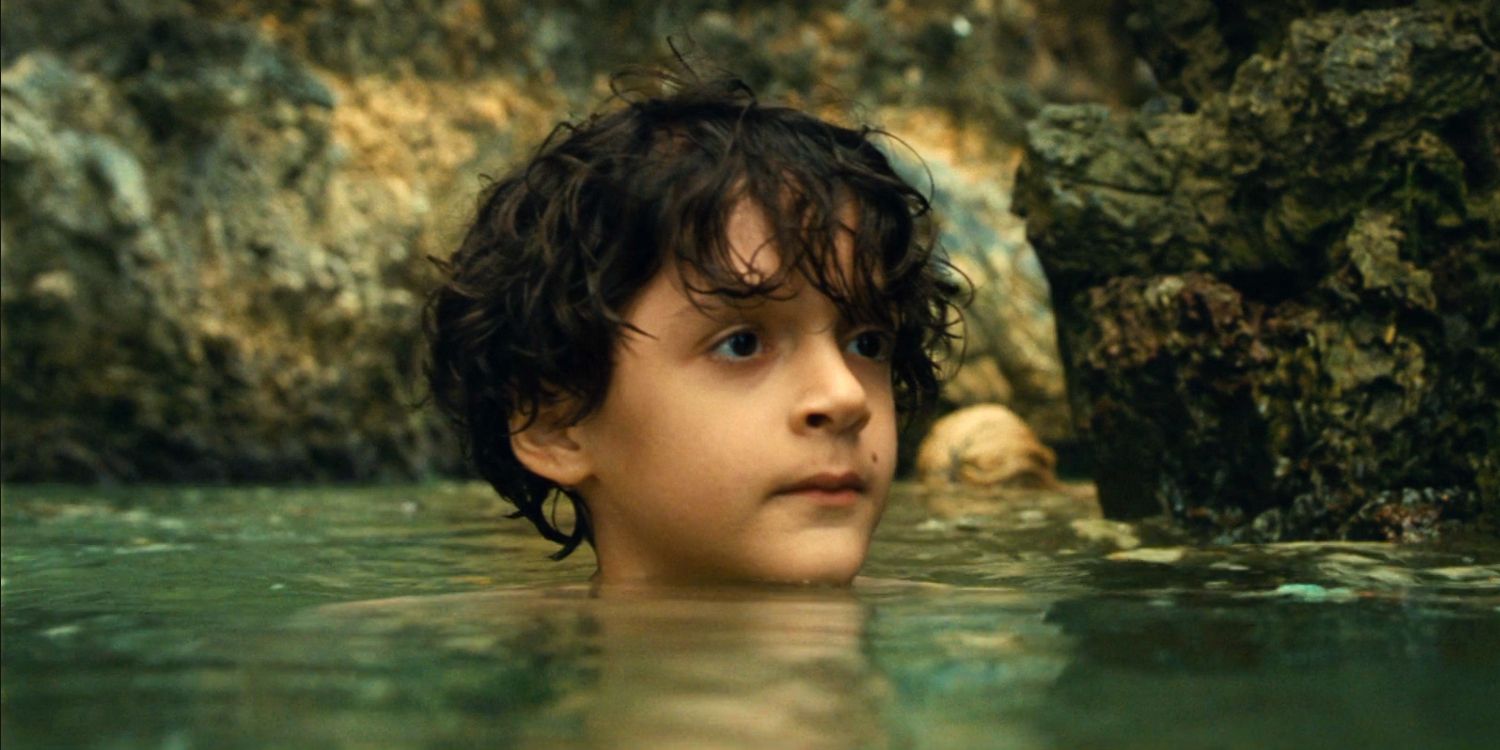 But I was happy with the cast of characters that were assembled—which also differed slightly from the book. The main family—portrayed by Gael Garcia Bernal, Vicky Krieps, and multiple actors and actresses playing their children—brings an interesting dynamic. All the couples and their backgrounds made for a more interesting movie, I think, than the characters in the novel might have. And the actors chosen didn't disappoint, either (though some of their more enigmatic lines of dialogue did). On the other side of the camera, I was happy with the camera choices that were made. When Shyamalan didn't want us to see something yet, the camera simply refused to show us. It hid things off-camera, or only showed us pieces of it until the time was right. The movie is full of brilliant cinematography choices that keep secrets hidden and then only reveal them at the right moment.
"Old" is 100 minutes of my life I'll never get back, but there are worse places to spend them than with this moderately mysterious thriller.
5/10