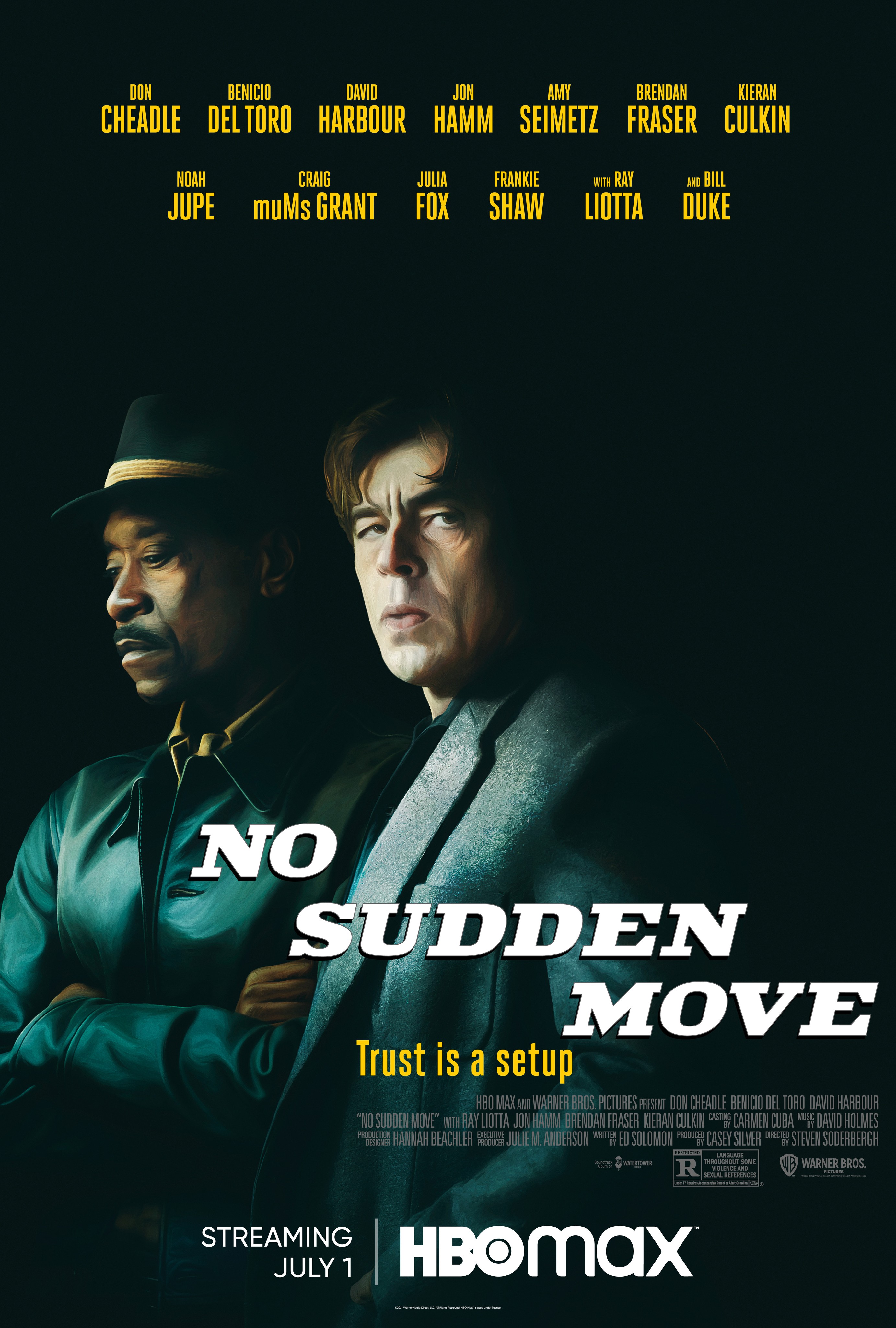 No Sudden Move (2021)
Directed by Steven Soderbergh
After coming out of a short retirement and directing "Logan Lucky," "Unsane," and "High Flying Bird" (three very different movies I enjoyed greatly for different reasons), I was bummed that Steven Soderbergh's latest two releases, Netflix's "The Laundromat" and HBO Max's "Let Them All Talk," were disappointments. I know I'm not the only one who felt that way. When I heard about his new HBO Max release—the thriller "No Sudden Move"—I was nervous. Not only did I think of his last couple outings, but I also remembered another director whose new HBO Max movie was a disappointment: Taylor Sheridan and "Those Who Wish Me Dead." Would this new movie from a popular director be as off-the-mark as that one?
In 1950s Detroit, it doesn't take long for ex-con Curt Goynes (Don Cheadle) to be pulled back into a world of crime. But this job seems easy. He and another man, Ronald Russo (Benicio del Toro), will watch a company man's (David Harbour) family while he retrieves some confidential paperwork from his office. Their job is simple—keep an eye on the man's family, and assert just as much pressure as needed to make sure he delivers the goods. But something goes wrong, and Goynes and Russo realize they're being set up. But can these two career criminals even trust each other?
Don Cheadle shoots to the top of my own admittedly short Best Actor ballot with a performance that feels incredibly authentic. He sports a raspy and hardened drawl, but he makes it feel real. And we all agree Benicio del Toro should have won an Oscar for "Sicario" a few years ago, right? Maybe he's due for that Best Supporting Actor statue this time. The rest of this thriller's sprawling ensemble helps keep the story interesting no matter who's on screen: David Harbour, Jon Hamm, Julia Fox, Bill Duke, Ray Liotta, Brendan Fraser, Amy Seimetz, plus a cameo that's no surprise for anyone who has seen a few Steven Soderbergh movies this century.
"No Sudden Move" could have gotten lost in the weeds, like many films do when they toss viewers into a criminal underbelly full of lies and deception. More often than not, we're more confused than any of the characters. Who can be trusted? It sometimes makes for a confusing mental workout. Call me a simpleton, but sometimes it's nice to watch a movie that makes narrative sense. Thankfully, this is one of those movies you can follow along with. Actually understanding what's happening helps you appreciate what happens next. We know this to be true. I'm tired of pretending I like movies that don't make any sense (I'm looking at you, Christopher Nolan)!
That said, Soderbergh's latest ends with a one back-stabbing, double-crossing, turn-coating twist after another, "The Departed" style. Well, not exactly like "The Departed," but you'll see. At least I hope you'll see—despite my fears, this Soderbergh/HBO Max collaboration is worth hitting "play" for.
7/10