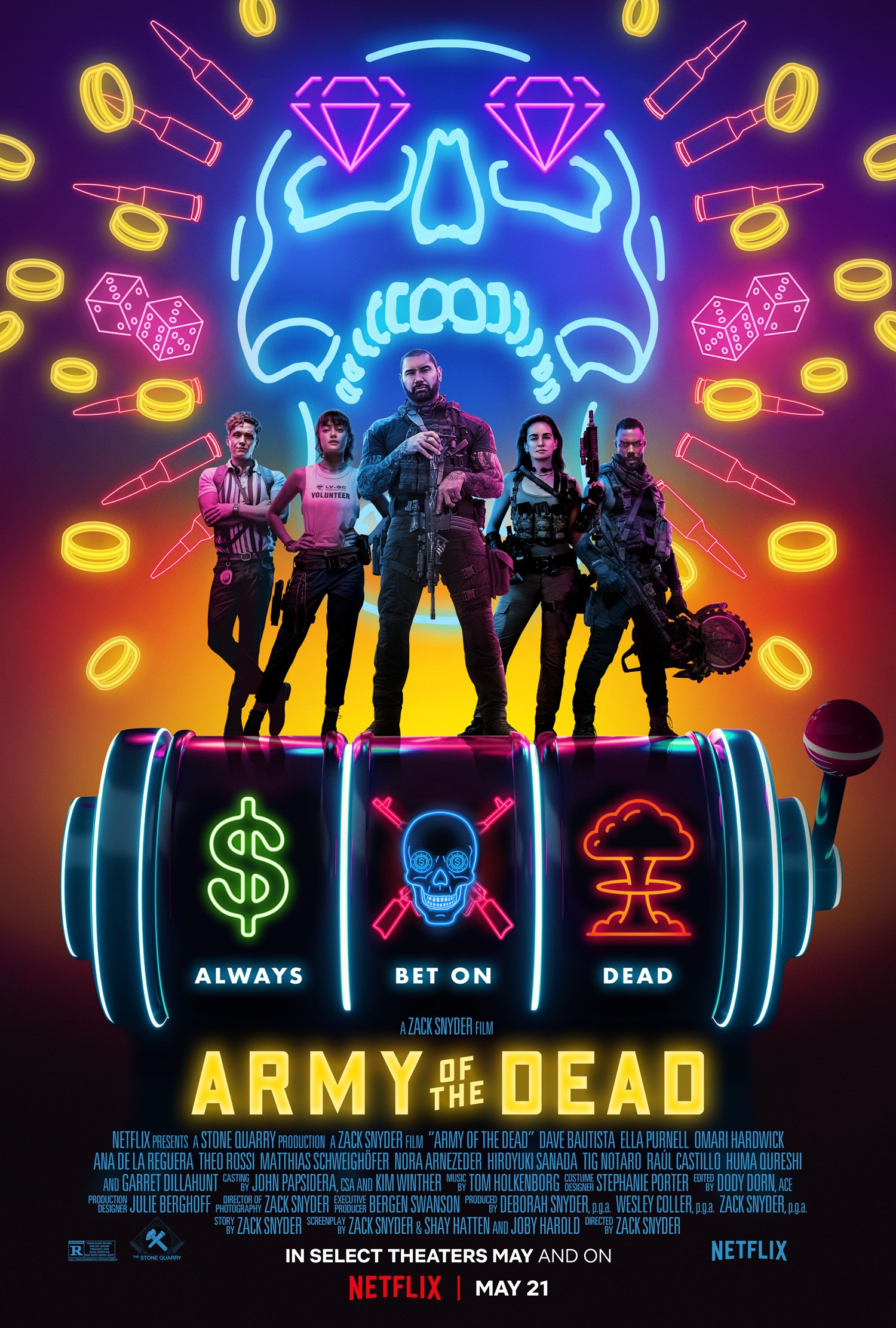 Army of the Dead (2021)
Directed by Zack Snyder
Zack Snyder brings one superhero movie back to life in 2021 and now he thinks he can resurrect a whole army of undead? "Army of the Dead" saw Snyder take his talents to Netflix after releasing his four-hour cut of "Justice League" on HBO Max, and I can see why. The schlocky action blockbuster is almost as bloated as "Justice League," but without the air of gravitas that somehow made that DC blockbuster feel appropriate on HBO Max, arguably the most prestigious of the major streamers (not that the Snyder cut was some monumental work of cinema). But despite the 2.5-hour runtime, "Army of the Dead" fills a new movie void that's hard to ignore. Sure, there are a few movies in theaters every week, but if you frequent the theater as much as I do (or did…I still need to get out to see some of the latest, like "A Quiet Place: Part II"), you'll welcome something on Netflix that has a blockbuster budget.
After a zombie outbreak is contained within man-made walls surrounding Las Vegas, a group of super-intelligent zombies has made it near-impossible to navigate through the city. But a casino owner wants to retrieve the money left in his basement vault. So he hires a team of mercenaries (Dave Bautista, Omari Hardwick, Ana de la Reguera, Tig Nataro, etc.) and a young safe-cracker (Matthias Schweighofer) to make their way through the city and retrieve the money. Scott Ward (played by Bautista) also has to worry about his daughter (played by Ella Purnell), a volunteer helping displaced Las Vegans (I promise this is the correct term, though it seems absurd) who insists on tagging along.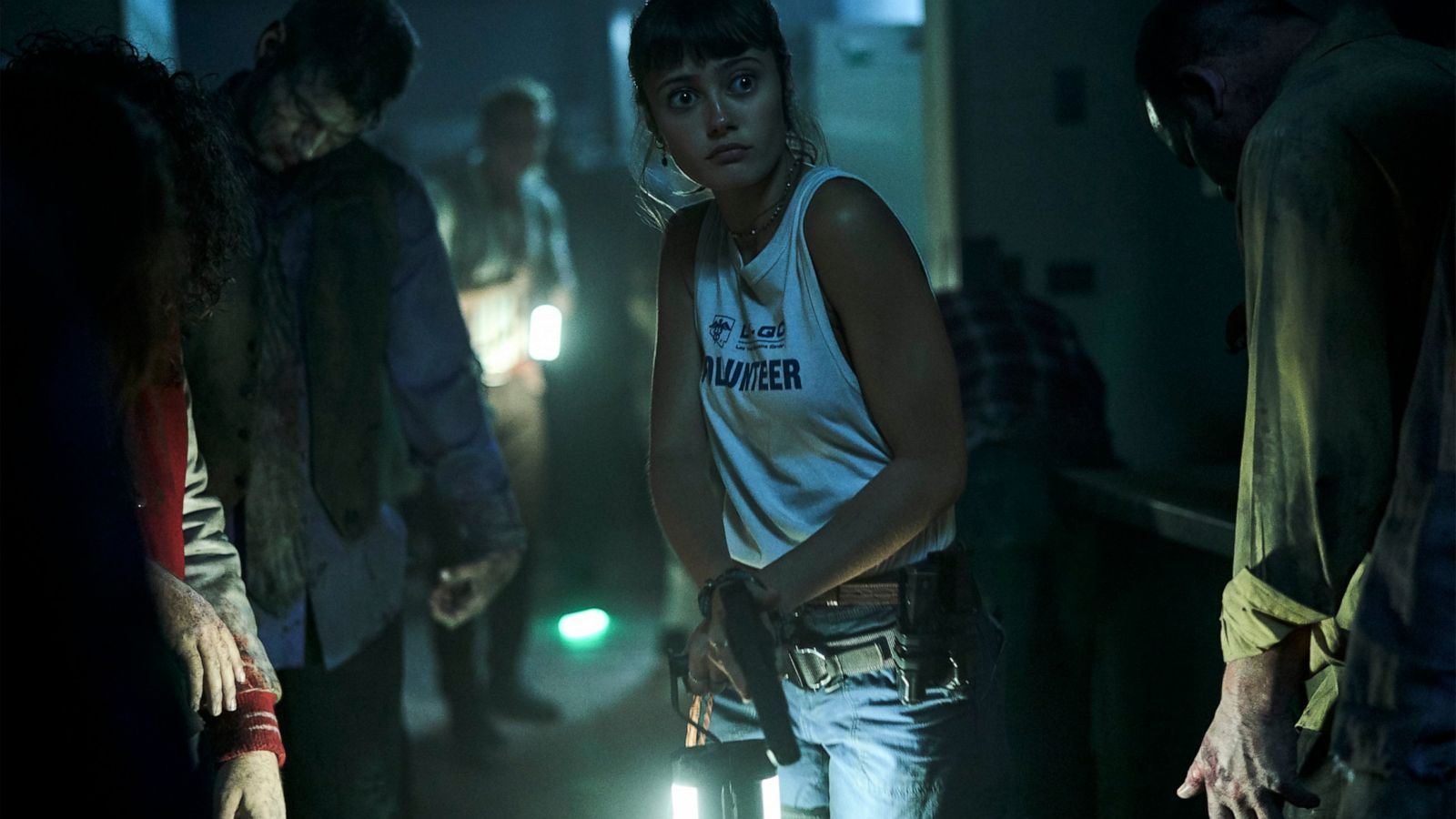 I mentioned the obviously large budget before, but I didn't mention how disappointing the special effects could be despite the money Snyder must have had. There's a soft, fuzzy filter that seems to be use a lot. I don't know how to describe it, but you'll know it when you see it. It made the periphery of a lot of the shots purposely unclear. Why? That's not how the human eye perceives the world, so why would it be how they want us to perceive this world? Maybe I'm overly sensitive to things like this, but I can't imagine I'm the only one. The zombie make-up was sup-par, too. It's not the worst, but I've seen much better examples. Even Snyder's first zombie movie, the 2004 remake of "Dawn of the Dead," looked better than this, and that's despite it being 15 years older.
I enjoyed the camaraderie of the diverse cast of characters, at least. Dave Bautista is fine, though his comedy stylings as Drax in the two "Guardians of the Galaxy" movies will always be my favorite Bautista. Tig Nataro famously replaced alleged sexual predator Chris D'Elia. She shot her scenes on a green screen, without any other actors present. Sometimes you can tell, but mostly you just enjoy seeing her in a new sort of role (as the badass helicopter pilot hired to get the crew and the money out of the city once the job is done). Schweighofer was such a fan-favorite, he already has a spin-off planned for release on Netflix. I admit, he was a lot of fun to watch. Speaking of spin-offs, there's also an anime-style prequel series planned. Considering this is reportedly Netflix's most-watched original ever in its first month of release, I don't blame the streamer for trying to capitalize. But when the movie industry is back to normal in a year or two, will we still be itching for more "Army of the Dead" content? I guess time will tell.
"Army of the Dead" only has a handful of scenes with genuinely exciting zombie-killing action, but that's a handful more than you'll find in theaters right now. While I would recommend you catch up on the classics first, or see what you can in theaters, if you've run out of options this movie is there to help you kill some time.
4.5/10