Sorry We Missed You (2020)
Directed by Ken Loach
Director Ken Loach has done it again…made me really sad for the state of the world, I mean.
After his realist drama "I, Daniel Blake" released in the UK in 2016 (it wouldn't make it to the states until the following year), populist politician Jeremy Corbyn (the Bernie Sanders of across the pond) praised Loach's work and recommended it to conservative then-Prime Minister Theresa May. Now, with "Sorry We Missed You," Loach again takes aim at the heartless systems that keep the British working class from ever rising above their station in life. The drama is a deep-cutting examination of everything that is wrong with the world.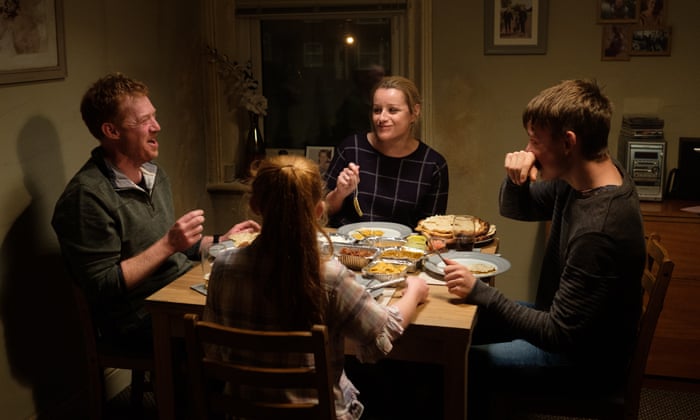 The audience is immediately stressed when we see driver Ricky (Kris Hitchen) buy an overpriced delivery van in order to earn the money his family needs to afford a house. He's investing in their future, he argues, but his wife Abbie (Debbie Honeywood) is unsure. She knows if the gamble doesn't pay off, they'll have an even tougher time getting out of debt. The audience knows that, too. Any minor slip-up could doom them. For the next 100 minutes, we watch the family struggle to stay above water. It's not their fault, mind you. Their employers exploit them in the name of capitalism, and they have little recourse.
If "Sorry We Missed" makes you sad, I urge you to reconsider—it should make you furious that we live in a world so cruel and unforgiving. Loach doesn't stand on a soapbox or shove anything down your throat. He knows the most effective way for audiences to see his message is to tell it straight. There's something heartbreaking in the way a son asks his dad if he wants a glass of water, or the way a mom offers to sleep next to her young daughter after she's had a hard day. Paul Laverty's script, like his script for "I, Daniel Blake" (he and Loach's working relationship stretches back 24 years), feels natural the whole time. Of course, it's also full of British slang I had to use context clues to interpret.
The importance of the casting choices was, to use one of those popular British slang words, massive. Three out of the four leads had not had any prior acting experience, and the fourth had never had a real part in a feature-length film until this. While their lack of experience was occasionally distracting, 99% of the time it was an asset. For a story that relies on realness, having real people in the lead roles was a no-brainer. I was especially impressed by Katie Procter, who played daughter Liza. She made you feel like she was really inside her character, experiencing that anxiety.
Ken Loach's movies will always have a home with the populist crowd (anywhere in the world) who recognizes systemic unfairness in their country and hopes to see it eradicated. "Sorry We Missed You" is just another of these important films that shines a light on a problem in the hopes that those in power will work to fix it.
7/10