The Grossi Gang (2018)
Directed by Claudio Ripalti
During the time of Italian unification in the early 1860s, there was a band of criminals hellbent on restoring papal power in their homeland. Justifiably, they resented the corruption in the newly established government. When director Claudio Ripalti set out to tell the story of the Grossi Gang (or la Banda Grossi), he said he imagined that it was a story Sergio Leone (the famed spaghetti western director) would have told had he been able to tell more stories set in Italy (which didn't sell as well in America, and so weren't often made). First-time filmmaker Ripalti (who also wrote the film and served as cinematographer) received about $58,000 from Italy's Ministry of Cultural Heritage and Activities and Tourism for his historically accurate and important film, and about $83,000 from 431 backers on Kickstarter (including me, full disclosure!). Considering that Ripalti was just one of the two dozen members of the cast and crew who had never worked on a film set before (including the composer, editor, and production designer), "The Grossi Gang" is a remarkably well-made picture.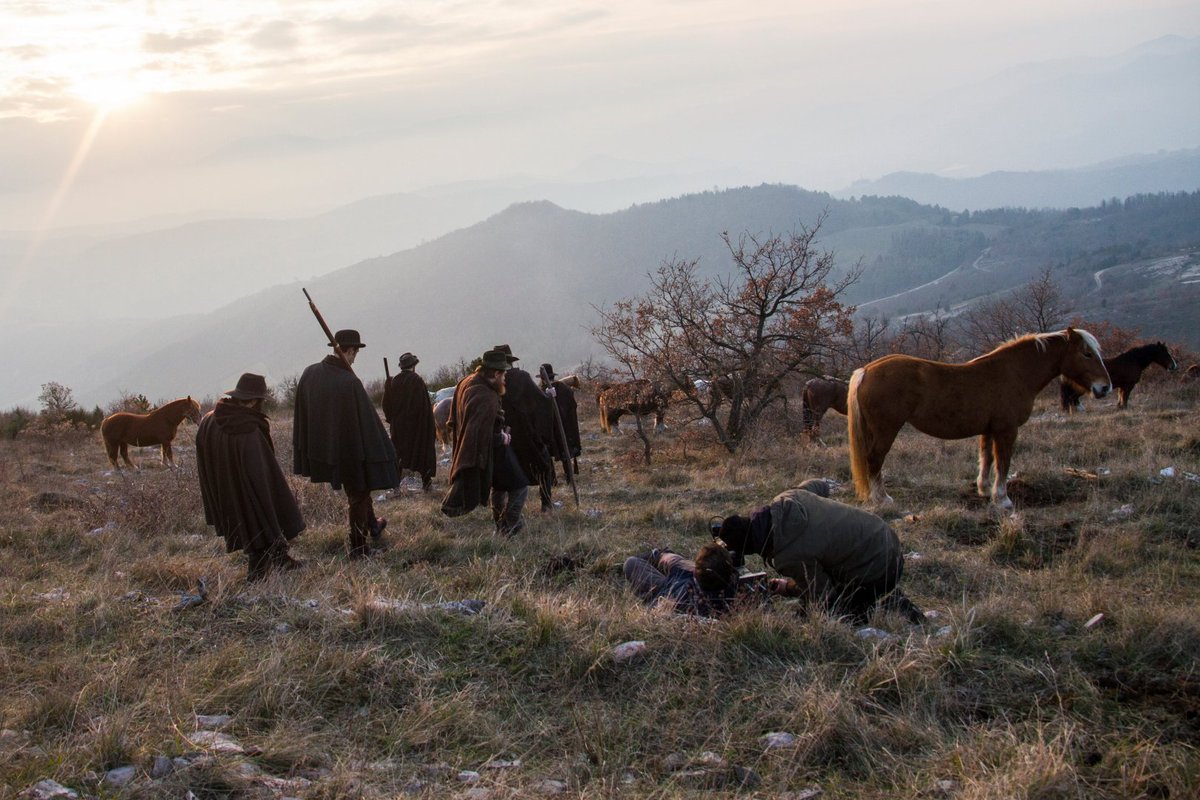 After Terenzio Grossi's (Camilo Ciorciaro) escape from jail, he gathered his younger brother Marco (Francesco Cotroneo), his best friend Sante Frontini (Rosario DiGiovanna), and about half a dozen more of his fellow scoundrels to form a small gang to fight for the people of central Italy against the corrupt new government. The problem was, they spend much of the movie terrorizing seemingly innocent people with theft, destruction of property, and, in more than one case, rape. One dedicated lawman (and, occasionally, a few less dedicated ones) stays on the gang's tail, but the gang always seems a step ahead.
Myth has deemed him a hero of the people, but Ripalti's film shows both sides of Terenzio Grossi. Ripalti paints the Grossi Gang as a Jesus/apostles situation, which is an apt comparison if he was intending it. At times, though, the raping and pillaging makes it really hard to like the "good guys," despite their gallant political purpose. There are standouts among the characters, though—a few who are not only likable but also well-written and well-acted. The storytelling style sets us up to like—or at least empathize with—Olinto Venturi (Leonardo Ventura), who leaves his wife on their wedding night to join Grossi in his pursuit for freedom. On the other hand, a creepy mutton-chopped bigwig villain kept making terrible decisions with a comical amount of confidence. His character seemed to be an afterthought, though he played a pretty big role.
Still, my Kickstarter money went to good use, as far as I'm concerned. The production design looked professional, the period costumes looked authentic, and someone spent a lot of time finding gorgeous filming locations (not that Italy doesn't have plenty to spare, I'm sure). "The Grossi Gang" doesn't feel like a stuffy period piece full of long silences and boring dialogue. It feels like a movie made in the 21st century. But it's also not full of the Hollywood fluff that kills so many new American movies. It's the Italian take on movies like "Public Enemy," "Che," and "The Fugitive" all rolled into one. If you get the chance to see this quickly paced crime movie (and if the rumor about Netflix distribution is true, you soon might), jump on it.
7/10