Risk (2017)
Directed by Laura Poitras
Almost a year after its release at Sundance 2016, and just a few days after FBI Director James Comey called WikiLeaks "intelligence porn" with no journalistic credibility, director Laura Poitras's cinema vérité look at Julian Assange, "Risk," is finally ready for nationwide consumption. With a release date more timely than she could have even imagined (and I'm sure, considering the politically-charged, 2016-Election-centric, 24-hour news cycle world we live in, she had assumed it would still be pretty timely), "Risk" is a project six years in the making, as Assange gave Poitras unprecedented access, exposing a new side to the evil genius we see portrayed in the media (not that he doesn't show signs of malice on occasion).
Beginning in 2011, shortly after WikiLeaks made its mark by releasing thousands of U.S. State Department documents, Poitras caught up with Assange, who was at that time in Norfolk, England. Over the course of almost six years, Poitras was there for WikiLeaks and Assange's biggest moments—the leaks produced by Bradley Manning (who now goes by Chelsea) and Edward Snowden, Assange's sexual assault case in Sweden, his escape to the Ecuadorian Embassy in London, the 2016 Presidential election, right up until last month's comments from Attorney General Jeff Sessions about pursuing criminal charges against Assange (which Poitras added very last-minute—so last-minute that she postponed a press screening that was set to occur shortly after Sessions's comments).
"Risk," like many other bio-documentaries before, shows a side to its subject that most people have never seen. The association of Assange as an immoral force trying to play God by revealing information in order to cause damage, right or wrong, is about all we know when we hear his name. But in "Risk," you see a vulnerability and a nervousness that you wouldn't have expected. Assange visibly shakes as he talks on the phone to a State Department lawyer. And Poitras largely, as is her style (the Oscar-winning "Citizenfour" is a bit different, since she was a principal player in the story of Snowden's doc drop), stays off to the side, letting Assange's actions in these intimate moments tell us what we need to know about him, without saying it directly. It lets us see the contradictions that make up his life, the goods and the bads, and decide for ourselves what to think. But in doing so, Poitras makes it clear she's not interested in answering questions—or frankly, even asking a lot. "Risk," surprisingly brief at 94 minutes (considering the six years of access Poitras had), bounces around, skipping months at a time, without always keeping us in the loop regarding Assange's whereabouts. It assumes you know some things about the story—and, if you've watched the news in the past seven years, you probably do. More than anything, I think, "Risk" shines a light on Assange's thought processes, his intentions, which is something we don't always know or even consider—we only see the result, the product, flashed across CNN and debated by pundits who don't know Assange or anyone working for WikiLeaks. Because of all this, of course "Risk" isn't as good as "Citizenfour." Edward Snowden's story was still relatively fresh, and the unique perspective of the informant—the one losing a cozy job and U.S. freedom by revealing government secrets (as opposed to Assange's role as leaker, not the originator of any intel but only the distributor of it)—made for a more intriguing story, at least to me. Knowing Snowden's story, Assange's perspective isn't as shocking as it could (and should) be, despite the obvious differences between the two men.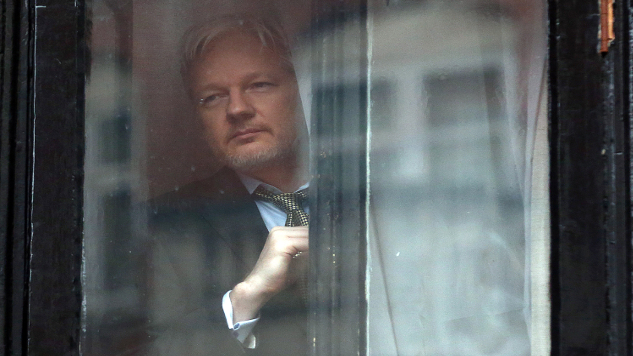 Whether or not you're a political wonk, "Risk" offers insight into a case that's unlike any other in history. A fascinating, multi-faceted story, an enigmatic figurehead not always interested in the spotlight, and a fly-on-the-wall director only interested in seeing a point of view few have. And we're lucky enough, now, to see it too.
8/10